Berbuka Puasa di Lembah Keramat
Semalam, tanggal 7 Oktober 2006, saya telah dengan hormatnya dipelawa membuka puasa di rumah Puan Farah Ismail dan Encik Norhadie Samsuri. Makan ala2 potluck gitu, dan saya telah memasak
(dengan bantuan isteri tercinta of course :P) apa yang dipanggil Sheppard's Pie. Tak tau la sama ada betul ke tak benda ni nama Sheppar'd Pie, tapi sebab itu lah nama yang mak saya kasik tau, maka itu lah kot nama dia :) Gambar makanan sempoi itu ialah seperti di bawah :)
GAMBAR SHEPPARD's PIE
Rakan-rakan lain telah membawa menu pelbagai rasa seperti murtabak, pizza, lasagna, pasta alfronggo dan macem macem lagi!!! Sedap dan beraneka macam makan buffet kat Restoren Tupai Tupai... Astalgroloooooo!!!!
Tapi... kok malang berbau bau, sebab saya terlupa ya-aamat nak amik gambar2 makanan2 yang ada. Mungkin sebab sibuk sangat makan. Makanan dah la sodap sodap!!! Tapi takpa. Kita ambik gambar2 tukang masak dia pon kira ok jugak la kot...
Mari saya senaraikan tukang2 masak yang dapat dikenalpasti...
1. Ahmad Eddie Kurma Vijaya Ibramsha Kareem dan Gee 'The Teacher' Ravioli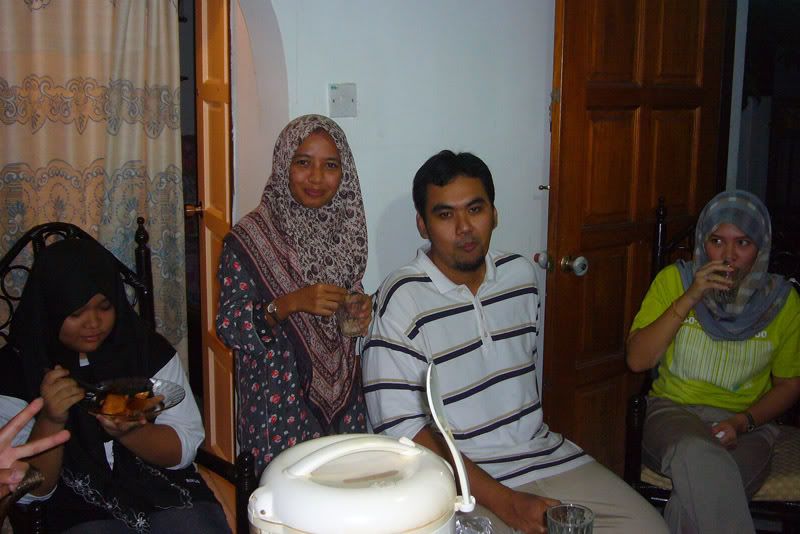 GAMBAR EDDIE, GEE dan ADIK GEE
- Eddie kata dia yang masak pasta goreng. Basically, Eddie cooked spaghetti goreng
(dengan macam tak banyak minyak, which is good), plus some herbs dan jugak
di 'top' dengan sliced meat. Sedap la pulak... nampak simple, but quite good. So, the
Pasta Spaghettilo Al Meat-ro dapat menandingi kesempoi-an masakah Khairul Jamie Oliver bin Jaafar!!!
2. Marathonner-cum-Iron-Man Wawa Hashim Wellington dan Sandra Susanti Mintar
GAMBAR WAWA dan SANDRA
- Ok. Sandra yang masak aku rasa. Wawa tengok aje... ataupun mungkin dia tidoq dalam
bilik dia masa Sandra dok masak. Kekekeke. Tapi saya tak tau, kot2 saya terpitnah secara
tak sengaja. Hehehe. Anywayz, desert enak yang diberi nama CAMAREL PUDDING yang dibanjiri AIR GULA. Slurp dan Gulp!!! Sedap tak terkata bak di katakan oleh para pemakan. Saya sendiri tak sempat makan. Chaitz. Asyik nak makan, tapi terlupa. Alih2 dah balik :( Oh, btw, saya tumpang kereta En Wawa dan Puan Sandra :) Hehehehe. Terima kasiiiih...
... Lupa pulak. Wawa juga telah memasak KEK! Nama KEK tu INDULGENCE! Dia masak
bersama dengan chef kat SECRET RECIPE Bandar Baru Bangi. Hehehehehe. TQ Wawa for de cake :)
3. Nurul Huda Sheena Easton Kecik Singgaporoliangkor Serdang Hospital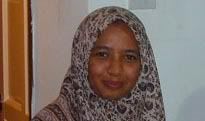 GAMBAR KECIK
- Kecik telah datang dengan memperkenalkan masakan kakak-nya (ke kakak ipar. Saya kurang ingat). Pizza yang jauh lebih enaq dari PIZZA PAH dan juga ZAN PIZZA. Pizza yang jika makan sekali, nak 7 kali. Kalau 7 kali, nak 12 kali, kalau nak 12 kali..... ok melampau la itu. Kerna Nabi kata berhenti sebelum kenyang. Hehehehehe. Namun, pizza Kecik Al Jaapar mmg lazat Alhamdulillaah. Tunas rasa ada gak macam nak jadi Italia... TAPI! Tengok2 ada jugak kena air tangan ketimuran, jadi tak jadi la pulak nak bawak gondola :(
4. Supiyan Kartolzonggo dan Isteri (Sorry PYAN! Aku asyik lupa nama bini kauuu)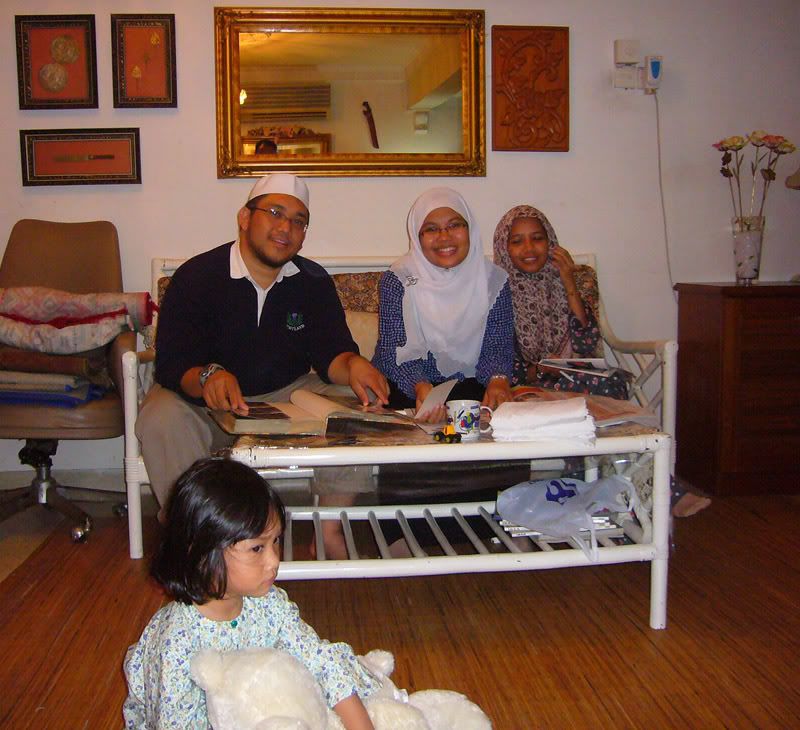 GAMBAR SUPIYAN
- Supiyan telah berjaya memanggang murtabaknya sendiri. Murtabak resipi MCKK dan MRSM Taiping (walaupun Pyan tak pernah pi MRSM Taiping). Tak lupa juga Sri Putri dan Tunku Kursiyah. Anywayz, murtabak Pyan mmg best. Saya sendiri dapat makan sikit saja... sama la kes macam karamel pudding Sandra,... plan nak makan, tapi aleh2 terlupa dan dah tiba time balik. Sedih... tapi takpa.... sebab Supiyaan buleh buat lagi ye dok :) Hehehehe.
5. Host and the Hostess :)

GAMBAR KECIK BANG MATT AND FARAH
- Tuan2 rumah... sorry gambar anda kecik. Saya terlupa nak berphoto2 nak rak semalam sebab makanan best best. Yang saya dapat makan masakah tuan rumah ialah NASIK MINYAK ALA KING dan AYAM MASAK MERAH KICK-A$$ SEDAPNYA! :) Ayor yang direadykan pon sungguh2 sesuai utk menghilangkan dahaga... kerna nggak terlalu manis, dan nggak terlalu tidak manis :) Tq juga kerna menyediakan tempat bersolat, serta menunjukkan kami semua jalan ke masjid yg membulehkan kitorang semayang terawih berjemaah :)
......................
................
.......
Basically, bebudak ex-ADP3 yang datang :) Antara yang saya tak sempat ambik gambar ialah...
1) Shareen Azua (ke Azwa)
2) Rafeeza
Anywayz, Alhamdulillaah... it was all a wonderful get together... lepas ni kot2 buleh buat lagi insya-Allaah. Plus, sambil sambut birthday Bang Matt yang ke... ke... ke....
berapa ek Bang Matt? :P So, it was more joyful lah. Tambahan ngan anak2 semua orang lagi yang hadir. Maka lagik la seghonok keadaan. Anak saya tak dapat datang kerna beliau menunjukkan simtom2 mau demam selesam. Jadi tak bawak la dia. Tapi gambar dia saya bubuh jugak la kat sini :)
Okie. Mau belajar game programming lepas ni. Akan daku blog pasal itu pulak selepas
ini insya-Allaaah.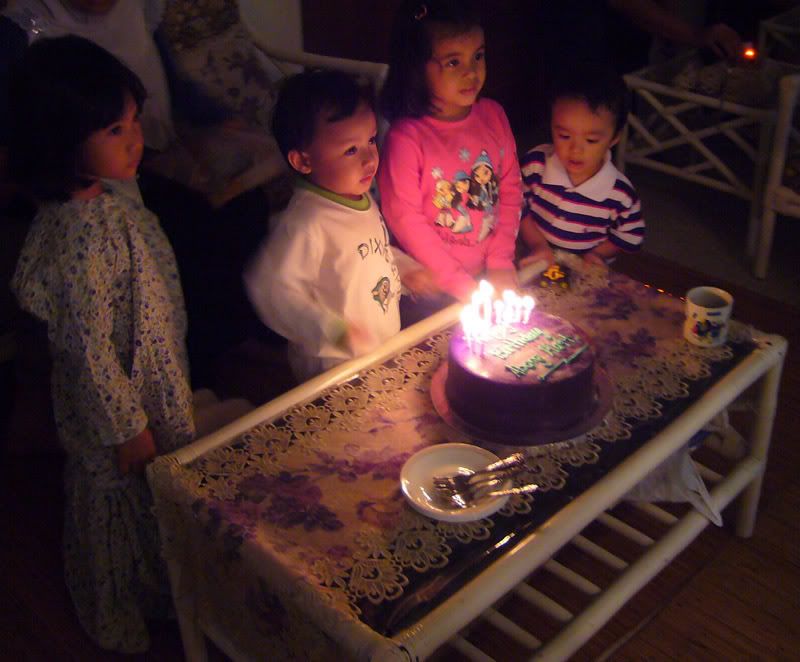 BIRTHDAY PIC - ANAK2 Bang matt, wawa dan Supiyan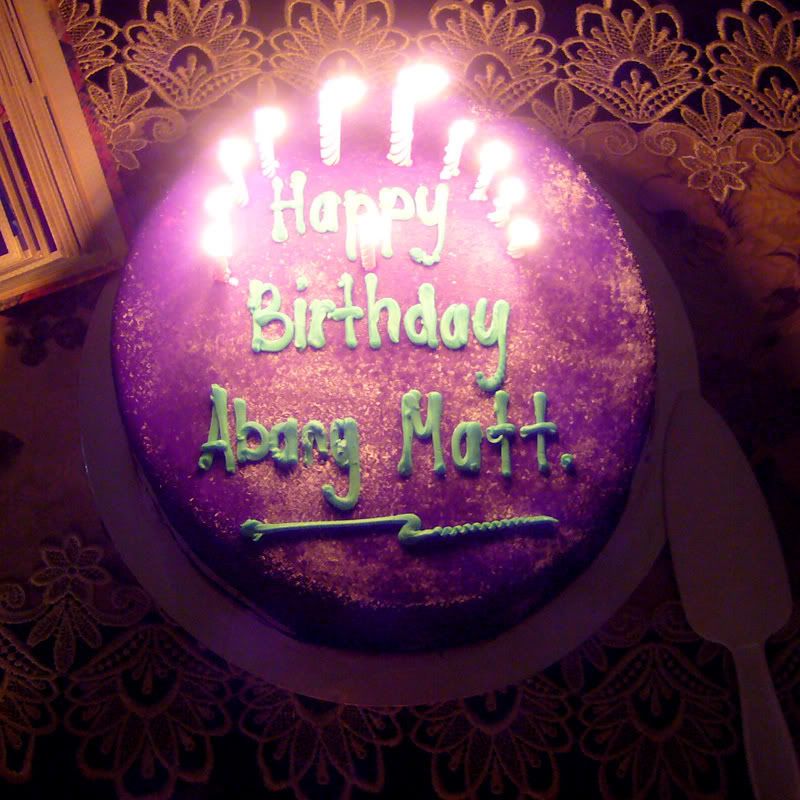 KEK "INDULGENCE" BANG MATT HADIAH DARIPADA WAWA DAN SANDRA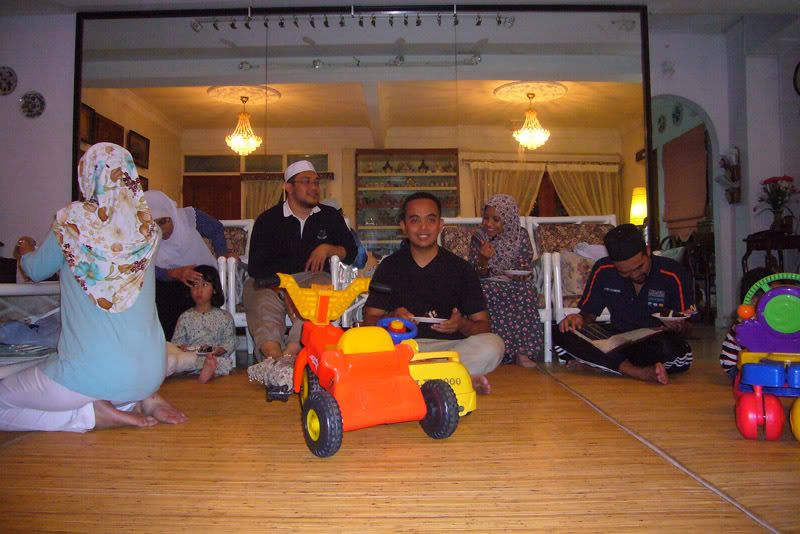 RASA-RASANYA NI SEMUA ORANG KOT
HADIAH HARIJADI KEPADA BANG MATT... hehehe. OK, NI MOTO ANAK DIA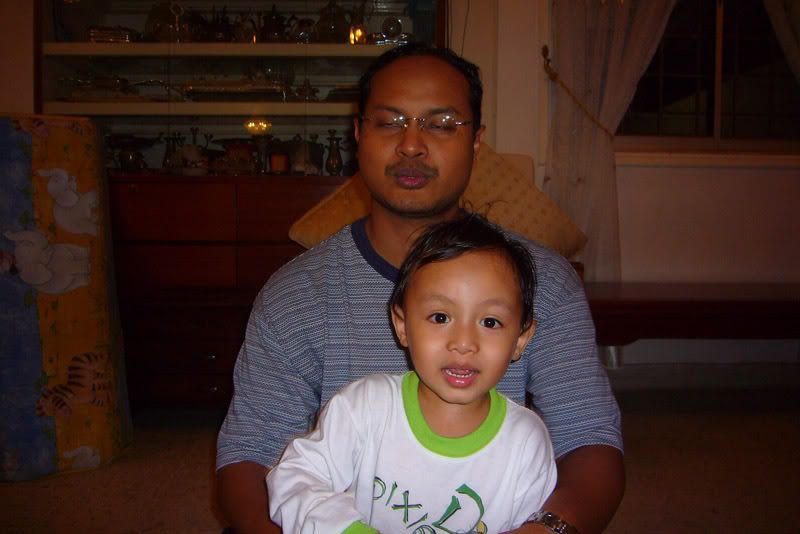 BANG MATT DAH LALOK SEBELUM ADAM (ANAK DIA NGAN FARAH)
WAWA TENGAH WIRID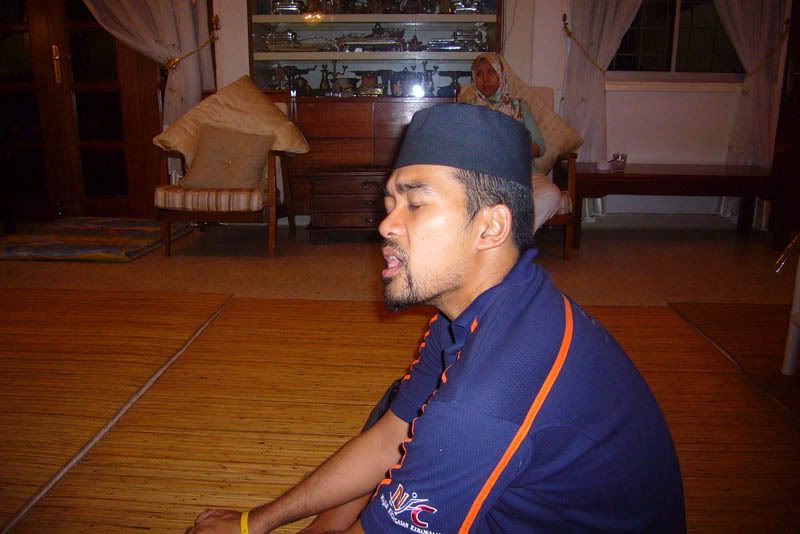 MACAM JOGGING JUGAK, WAWA DAH SYOK WIRID!!!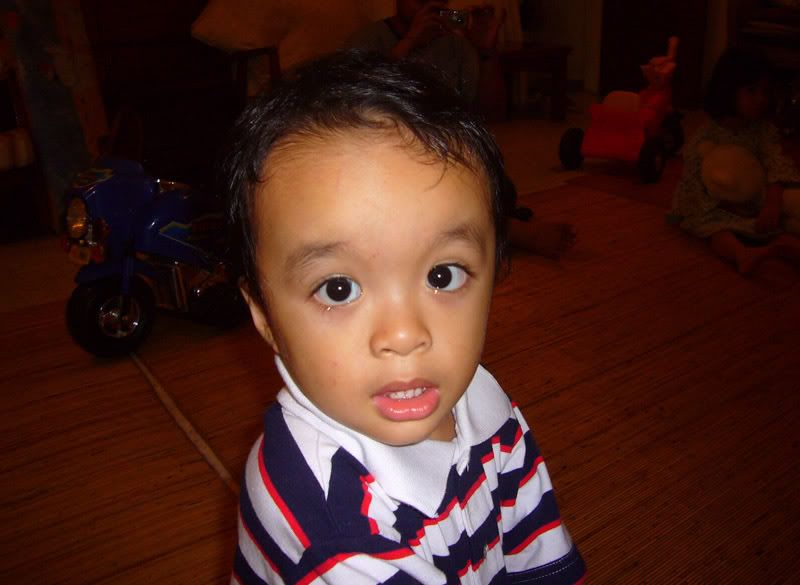 ANAK LALAKI LANANG WAWA NGAN SANDRA... "Apa bapak aku dok wirid ni?"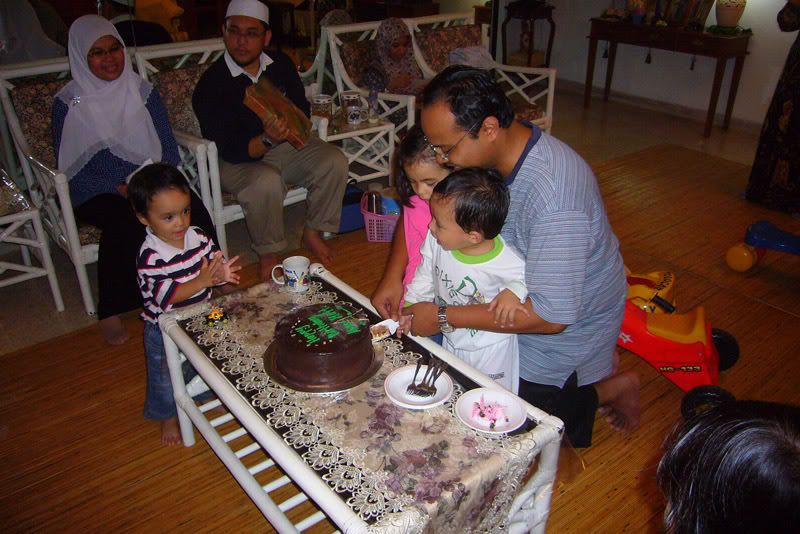 BANG MATT AJAR BUDAK2 POTONG KEK SUPAYA DIA BULEH MAKAN. CHILD LABOUR TUL LA MAMAT NI
SAYA SYAK BANG MATT SOH PASANG CERMIN BESO NI, SUPAYA DIA SENANG SIKAT RAMBUT
SIBUK DISKUS HAL POLITIK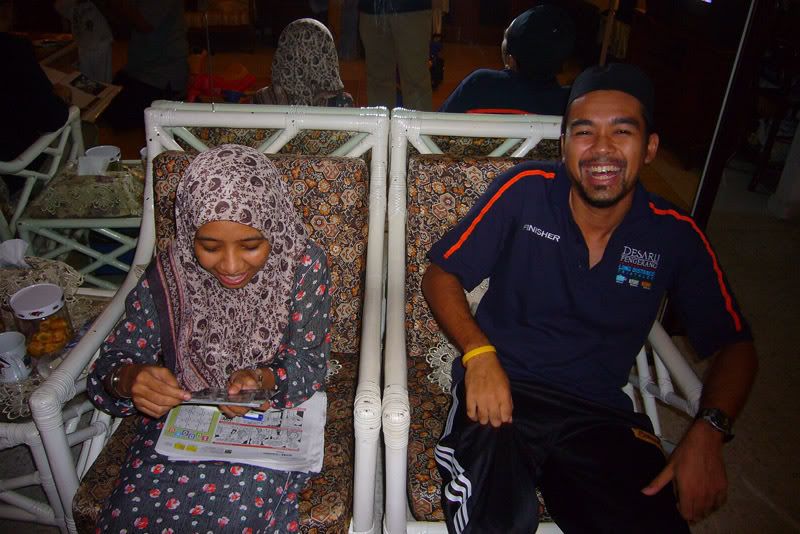 WAWA DAN KECIK TENGAH TENGOK GAMBAR2 ZAMAN MUDA PALEOLITIK MESOLITIK...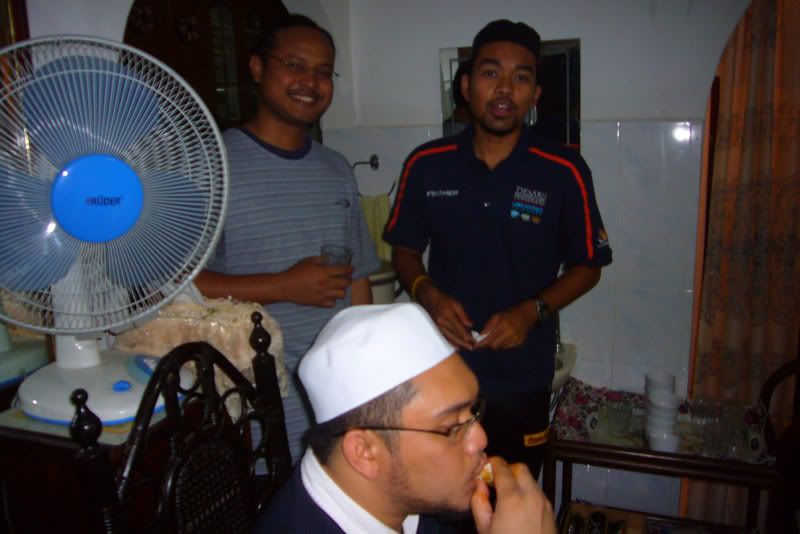 GAMBAR MAKANNNNNNN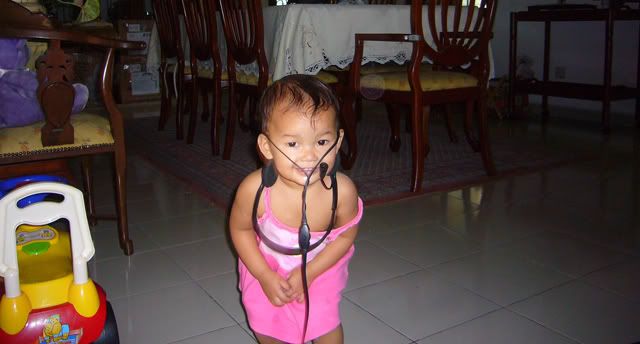 DAN SEPERTI YANG DIJANJIKAN... ANAK SAYA YANG TENGAH BELAJAR NAK PAKAI HEADPHONE :)
NADIAH FARHANAH NAMA DIA...
Thanks for dropping by.
Assalaam Aleykom Warohmatullaahi Wabarokaatuh